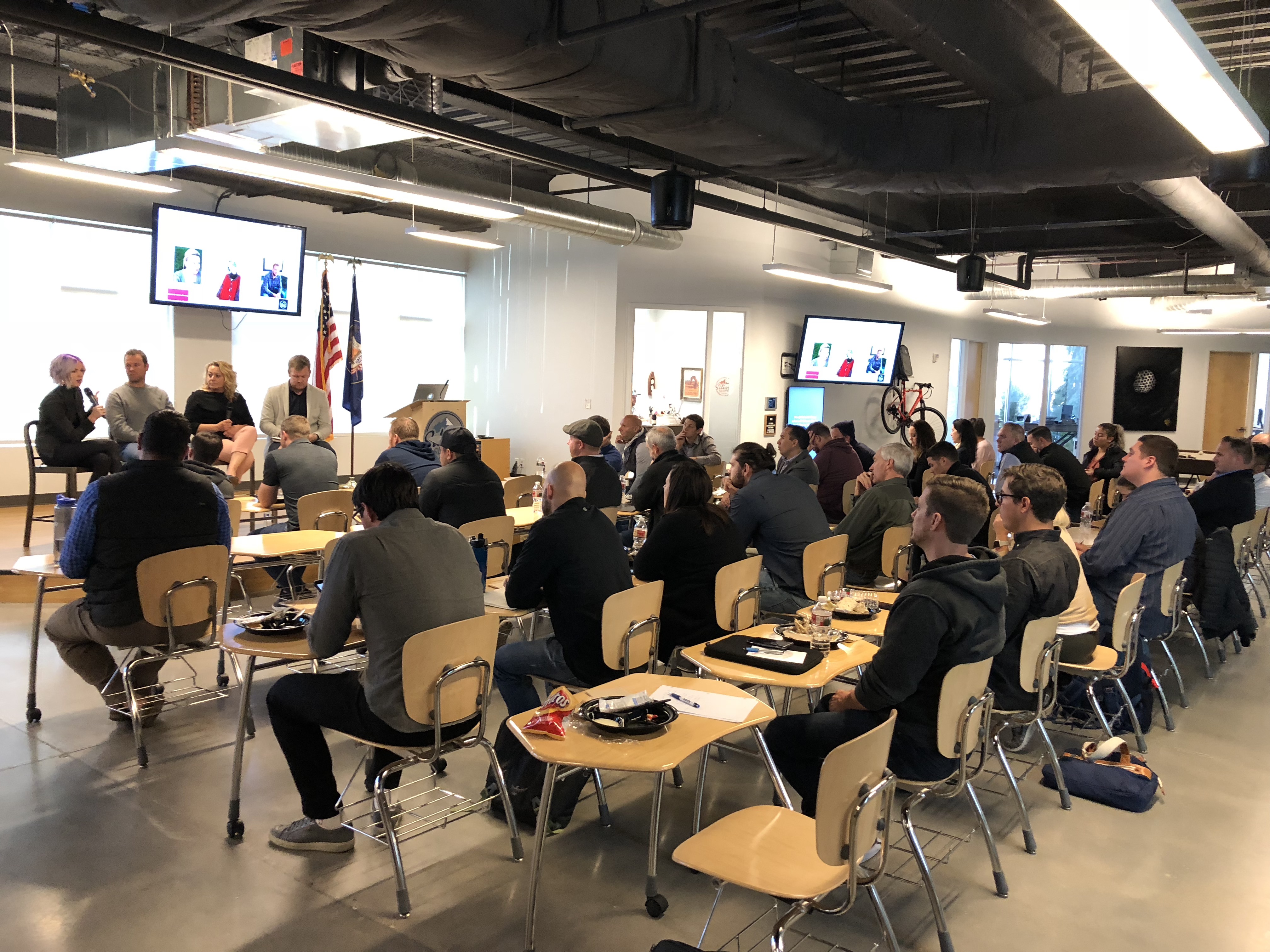 The Silicon Slopes Consumer Chapter held their November event last week with a panel discussion on Digital Marketing Strategies and Tactics for Optimal Results. The panel included Natalie House, VP of Digital for Traeger Grills; Rachel Nilsson, Founder and CEO of Rags; and Sam Alexander, CEO of PMD Beauty. Here are some key takeaways from their discussion.
Approach to Digital Marketing
Natalie, Traeger Grills
Beyond the basics of digital ads, they have a strong multifaceted strategy:
Influencers – they have over 800 influencers promoting their brand
Content – food recipes that drive significant organic search hits in addition to direct traffic
Organic / Social – tapping into the "food porn" movement on Instagram, they provide and curate social posts that highlight their brand

She reinforced the importance of presentation of the pictures and selecting the right ones to encourage to be posted. Some people are happy to post, but their food doesn't look great.
She also explained why it is important for you to be the thought leader and to think about how your hashtags can be used against you.
Rachel, Rags
Rags digital marketing strategy is heavily social. They look at creating content for their clothing for influencers to pick up. Their products are limited editions, so paid ads have a short lifespan.
Influencers – they haven't ever paid an influencer, but they give free product to influencers to post about the new clothing
Social Media – Advertising is successful when targeted to young moms and if pictures are inspiring

VIP Facebook group: Rachel will personally connect with moms in this group and they feel special which helps to promote the Rags brand and promotes loyalty

Competition tips – Knock offs come and go, but the important thing is to stay focused on your brand and be better than the knock offs

Protect yourself by getting a trademark
Sam, PMD Beauty
PMD Beauty's digital strategy has evolved significantly from mommy bloggers in 2010, too YouTube influencers in 2012, to Facebook and Instagram advertising today. Sam's key point was the need to constantly adapt to the moving landscape.
Luxury brand – With a high-end product, they can sell to mall department stores and Amazon and still maintain their price
Influencers – PMD Beauty continues to spend lots of money on influencers, but direct sales results are hard to track. Bigger influencers make a bigger impact. He gave the example that Michael Jordan sells lots of Nike shoes.
Paid Advertising
Natalie, Traeger Grills
They started with informercial style advertising and have moved primarily to paid search and social ads.
The biggest new initiative is Amazon Ads and Amazon in general. Ranking is earned by paid ads, reviews, and organic traffic. As such, new products aren't immediately ranked. Traeger Grills offers an Amazon-specific product line to avoid conflict with other channels. That said, the reputation on Amazon drives purchasing decisions in other channels like retail.
Rachel, Rags
Rags is primarily on Facebook and Instagram with their digital spend. Their focus was going where their customers live, which as Rachel described is moms at a park on their phones browsing social media.
They have new a partnership with Disney allowing them to target Disney consumers  via social media and digital ads.
Sam, PMD Beauty
Facebook and Instagram advertising have a clear return on investment and are a staple for PMD Beauty.
Amazon is becoming a necessary evil. You need a minimum ad spend to get featured, which PMD Beauty is currently testing.
What's Next with Digital Marketing
All agreed that influencer marketing is changing as influencers charge more, even as much as 20 times what they charged years ago. With that, measuring ROI will become more important according to Sam, but is very challenging to do.
From Natalie, the foundational pieces of SEO / SEM aren't going away, so they will continue to be important for every business.
The holy grail is true consumer personalization and being able to send a message that resonates for each individual.
Final Thoughts
Influencer marketing dominated the end of the conversation. This may be at a peak, so looking at new frontiers like Amazon Ads will be important for ecommerce business. Future events can be found on the Silicon Slopes Consumer Chapter page. We will be there and hope you are too.