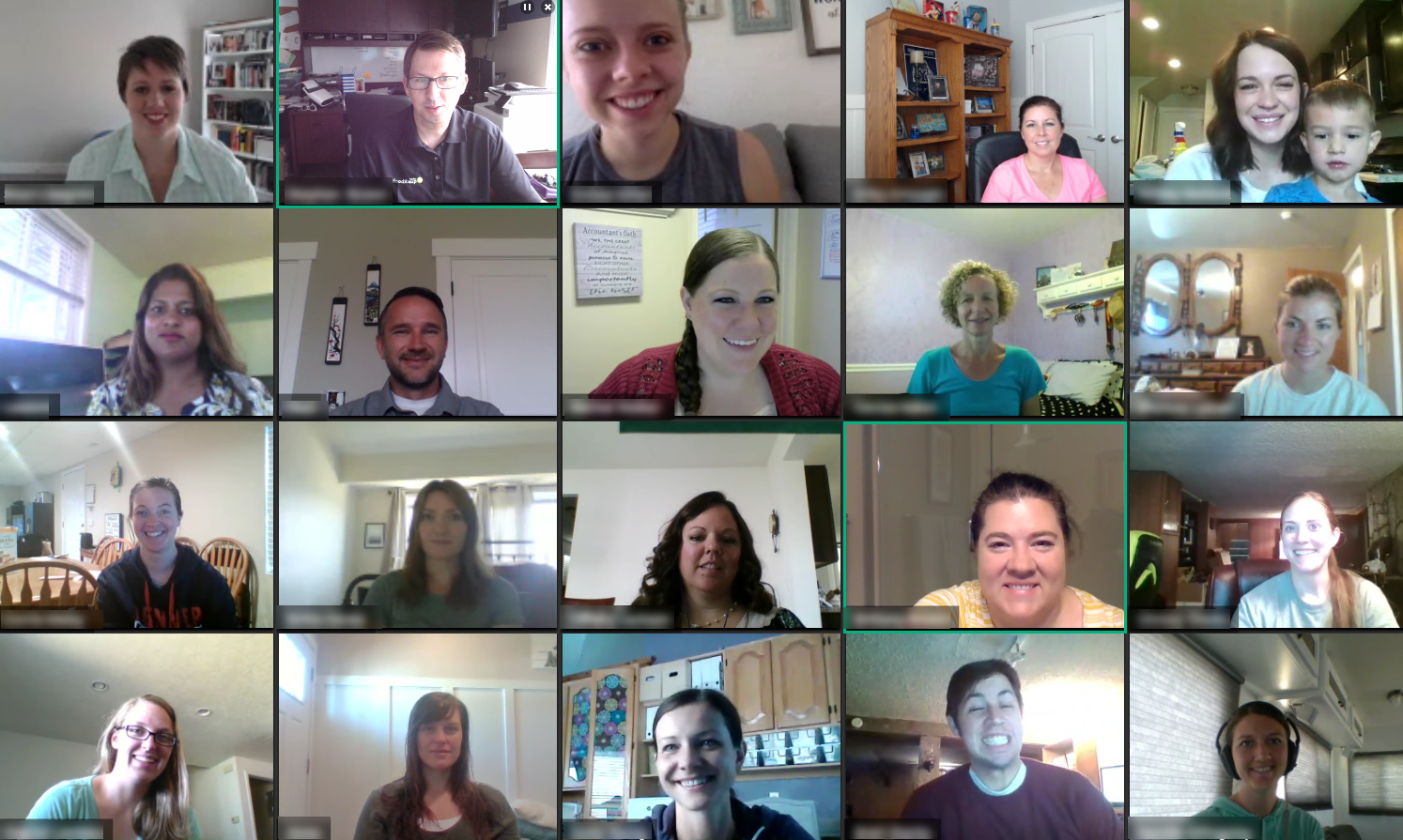 Remote work is becoming more and more common. For some, it's a big change. A lot of companies are still figuring out how to be effective with remote employees. Here at LedgerGurus, we have been 100% remote since our founding in 2014. Currently in 2020, we have 40+ employees across six states. Although small, we feel like we have learned how to successfully manage our remote teams. This blog focuses on the strategies we have used in managing remote teams. It includes five priorities:
Infrastructure
Communication
Collaboration
Work Management
Culture
For a recorded webinar on this information from our CEO and COO, click here.
Now, let's dive into each priority.
Infrastructure
We have found four keys to setting up the infrastructure for our team members to work effectively and safely:
Hardware setup
Going SaaS (Cloud)
Document storage
Safety
Hardware setup
Providing team members with good hardware is important. Laptops with webcams and solid-state drives (SSDs) are our standard. In addition, we provide multiple monitors. We like to have one monitor for work and a second for collaboration (the laptop screen can serve as one of these monitors). If your hardware is lacking or you are on a tight budget, we suggest USB webcams, VGA monitors, and adapters instead of docking stations.
Going SaaS (Cloud)
If you aren't already on the cloud, it's probably time. Working on the cloud gives you access to tools that are key in managing remote teams. We use the following at LedgerGurus, but you may also find other tools that fit your needs better.
Document storage
Storing files online is important for collaborating across team members. A lot of people already have G Suite, which is Googles version of Google Drive for businesses. We use Sharepoint Online and OneDrive at LedgerGurus, as part of our Office 365 account. If you don't have G Suite or Office 365, you can look into options such as Box and Dropbox Business.
Safety
Thinking about security is important for any business, but especially when you are working on the cloud in today's environment. You likely have business information and, for some businesses, client information that needs to be protected. We recommend the following:
Using modern anti-malware
Patching your computers
Turning on 2-factor authentication
Using a password management software, such as Keeper
Communication
Communication is critical in successfully managing remote teams. Better collaboration will happen as team members build relationships with each other. There are two types of communication that are important to consider when setting up your team's communication options:
Asynchronous – communication at different times with each other. For example, text messages, leaving notes, etc.
Synchronous – communication at the same time with each other. For example, in-person conversations, phone calls, video chats, etc.
The matrix below shows solutions for synchronous, asynchronous, and rich and personal communications. These options should be quick and easy to use for team members.
| | | |
| --- | --- | --- |
| Communication Type​ | Options​ | Tools​ |
| Quick/ Synchronous​ | Phone calls, fast access video calls​ | Phones, Microsoft Teams​ |
| Quick/ Asynchronous​ | Chat, text​ | Slack, Microsoft Teams​ |
| Rich and Personal​ | Video chat​ | Zoom, Microsoft Teams, WebEx​ |
The rich and personal communications are key in building relationships among team members. Providing these opportunities and making it a part of company culture will go a long way in successfully managing remote teams. Also, stay away from emails for internal communication! So much will be lost, and email doesn't work well for collaboration.
Collaboration
Going paperless is a must in managing remote teams. Those who need to access information can collaborate and do so easily. If you still need to use mail and fax, look at online tools such as Earth Class Mail and eFax. For statements and receipts, tools such as Autoentry, Hubdoc, and ReceiptBank are great. And then for managing expenses, we like Brex, Divvy, and Expensify.
Using G Suite, Office 365, or other modern office suites effectively is key with collaboration. Make sure you understand all the capabilities you have with editing, leaving comments, tracking changes, and more so that your collaboration is effective. As you use these suites, share documents with team members, instead of sending documents to them. This allows everyone to see live changes and edits to documents. Remember to organize your folders and documents in a way that makes it easy for team members to find what they need.
Finally, you'll need to think about documenting all your team's knowledge and processes. This will make it easier as knew team members come on board to find the resources they need. Knowledge and process documentation also helps with cross-functional teams as they collaborate on projects.
Work Management
One of the biggest concerns with remote work is wondering whether team members are actually getting work done. In an office, you can see people sitting at their office desk, which we associate with getting work done. Managing remote teams requires full transparency on what team members are working on. In addition, we have found that clearly defining and expecting the following is key with work management:
Responsibility
Deliverables
Deadlines
Ownership
Assignments
Accountability
If every employee understands the above list within their work, and they meet the expectations, then we are more confident that they are getting work done than if we saw them sitting at their office desk. It gives team members the freedom of meeting expectations while managing it within their schedules.
There are a lot of task management tools that will help you in these efforts. We use Asana because of the robust solutions it offers. You can also look into other tools such as Insightly, Trello, and Flow.
Culture
Culture doesn't need to be lost while managing remote teams! We have been able to develop a great culture that helps in our success. Here are some ideas for you that we are currently doing:
Quarterly video meetings with ALL employees!
"Watercooler" channel on Microsoft teams where we have the conversations that usually occur at an office breakroom or walking by people's desks
Leadership channel where we post leadership thoughts with the entire company
Key Takeaways
We have really enjoyed building a 100% remote team. The key takeaways we want for you in managing remote teams are the following:
Technology – use the right tools and use them effectively. Look for free collaboration tools.
Communication and collaboration – be deliberate and use the right tool for the right communication.
People – support team members through change and make remote work a great experience for them.