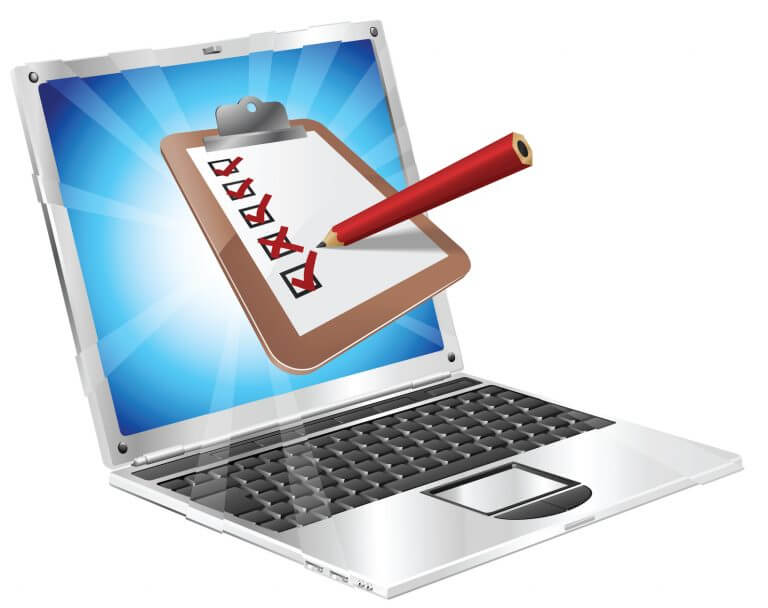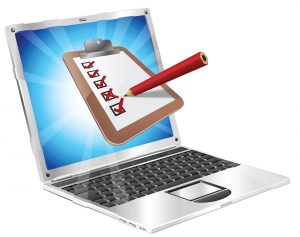 As a seller trying to navigate selling online, it's important to decide the best platform to sell online for your store. There are many platforms to choose from including: Shopify, BigCommerce, Magento, WooCommerce and Volusion. It's good to be aware of some of the pros and cons, and the pricing for online platforms before you decide which one is right for you.
Best for:
Beginners as well as advanced sellers.
Pros:
When it comes to ease of use, Shopify has most, if not all, the other platforms beat. It has great speed and load times (even with all its features), easy set-up, great customer support, and a great design. You don't have to sign up for an external web-hosting service. Shopify scales well so you can keep using it no matter how many products you offer, the volume of your sales, or the number of customers who buy from you. It also allows for multi-channel integration. When it comes to features, Shopify has it all. Features include 24/7 support, mobile access, free SSL certificate, you can accept credit cards and 100+ payment processors, automatic tax collection, and automatic carrier shipping rates to name just a few.
Cons:
Unlike BigCommerce, you may be liable for transaction fees if you use a payment processor other than Shopify Payment. Another downside is you may have to pay extra for useful and practical features. One of these is Shopify's coding language "Liquid", which requires payment to use for store customization.
Pricing:
Shopify has five pricing plans:
Shopify Lite Plan – $9 per month to sell on Facebook
Basic Plan – $29 per month (perfect for starting a new business)
Shopify Plan – $79 per month
Advanced Shopify Plan – $299 per month
Enterprise Plan through ShopifyPlus is the most advanced and has customized pricing
Best for:
Large, fast-growing companies, (but can be used by companies of all sizes). Good for those who are tech-savvy because of its complexity. Although they recently released a new "Store Design" tool to better help those of us who may not be as tech-savvy as we would like! Builds for brands like Toyota, Payless, and Ben and Jerry's.
Pros:
BigCommerce is considered an industry leader providing high scalability for online stores. In fact, it is considered the most scalable ecommerce platform according to reviews. BigCommerce has the most in-house built-in features which makes it a contender for the best platform to sell online. Features such as being the only ecommerce platform that lets you sell digital, physical, and service-based products without the help of an app. Its Abandoned Cart Recovery feature sends automated emails to draw customers back when they leave their carts without making a purchase. (These emails bring back 12-15% of customers who complete the purchase!). Another important feature is the SSL Security Certificate to encrypt user's data and keep all the payment information safe. When it comes to payment options, BigCommerce lets you choose your provider (over 40 options!) without any extra charges or transaction fees.
If you download the BigCommerce shipping app (for free) you can enjoy special discounts with FedEx, DHL, and USPS. BigCommerce allows for multi-channel selling such as through Instagram, Facebook, Pinterest, eBay, amazon, etc. For even more features there are over 600 apps you can download and use with BigCommerce.
Cons:
BigCommerce is considered average when it comes to ease of use, with online sellers finding it 14% more difficult to use than Shopify. This is because when it comes to its design interface, the store you create is split between two areas. One area where you manage the behind the scenes part of your store, and the other where you can edit your storefront. BigCommerce as far as we know, does not offer a mobile app at this time which may make it difficult to access your store when you are on the road.
Pricing:
BigCommerce has four pricing plans:
Standard Plan – $29.95 per month (billed annually)
Plus Plan – 79.95 per month (most popular plan)
Pro Plan – 249.95 per month and provides even more scalable features
Enterprise Plan is the most advanced and has custom pricing
Best for:
Fast-growing small businesses with an established model and funding.
Pros:
Magento has a lot of great features including inventory management, handling and shipping charges, coupon management, over 5,000 extensions available, and payment processor options. Because of all the available features, Magento can do pretty much whatever a business needs it to do. Magento was built with scalability in mind, so its perfect for companies who are or will be experiencing growth. Another great option is that you can download the community version of Magento for free.

Cons:
Although the features available can be beneficial to online sellers, it can also make things more complex. And Magento developers are usually the only ones with the ability to help. Only the enterprise pricing option allows for support directly from Magento developers, and it's very expensive depending on the developer and plan. Another issue is that this complexity makes everything take longer. Making modifications takes time, especially when you must rely on a developer and continue to need help. Because of the complexity and scalability of Magento, you need to host a Magento store on its own designated server. That means an additional monthly cost and more hassle.
Pricing;
Magento has four pricing plans:
Community Version – free download
Basic Magento Plan – starts at $20,000
Custom Magento Plan – starts at $40,000
Enterprise Plan – starts at $100,000
Extras:
Magento Developer – $65-$150 per hour
Website Maintenance – $80-$120 per hour
Best For:
Small to large companies; especially those who use WordPress. Companies who want a low-cost solution.
Pros:
WooCommerce is also scalable. It includes 300+ extensions which is less than many of the other platforms we've mentioned, but not bad considering WooCommerce itself is free. It comes with pretty decent shipping. Although there isn't much customer support, WooCommerce includes a great community of shop owners and developers who offer support to one-another. The WooCommerce tutorials offer step-by-step guidance and are very useful. As for keeping up with what's out there, updates occur often, and newer versions are consistently better than the old ones.
Cons:
Comes with limited customer support through a web ticket (can't get help through social media, email, or phone). You also must disable third-party customization products before customer support will help you. Although WooCommerce is free, its extensions are not, so it's important to research those additional costs. Customers complain that there is a steep learning curve so plan to invest a lot of time and effort at the beginning.
Pricing:
WooCommerce itself is free. Extensions vary in price from monthly to fixed fees.
Best for:
Those who love no-frills data and want to easily analyze it. Not for sellers of digital products.
Pros:
Has a mobile app for those who are always on the go. With its update to its new V2 operating system, it has many user-friendly improvements including a much clearer inventory system. Volusion is good with data. It provides useful data, analytical tools, and payment options. It has good ecommerce tools for inventory. Unlike Shopify it has a "Suggested Products" feature that doesn't rely on third party integrations. It supports over 1000+ apps from accounting to customer management. Every plan except for the personal plan comes with 24/7 customer support over the phone.
Cons:
You can't sell digital products with Volusion. So, if you do, then that probably rules this platform out as the best platform to sell online for your needs. It also has no blogging function for those companies who want that feature. Another thing that may cause companies to think twice about using Volusion is that it costs extra for the SSL Certificates unlike other online platforms. It's hard to navigate the front-end, so it's difficult to design your websites appearance.
Pricing:
Volusion has five price plans:
Personal Plan – $26 per month
Professional Plan – $71 per month
Startup Plan – $161 per month (most popular)
Business Plan – $269 per month
Prime Plan has customized pricing
The Best Platform to Sell Online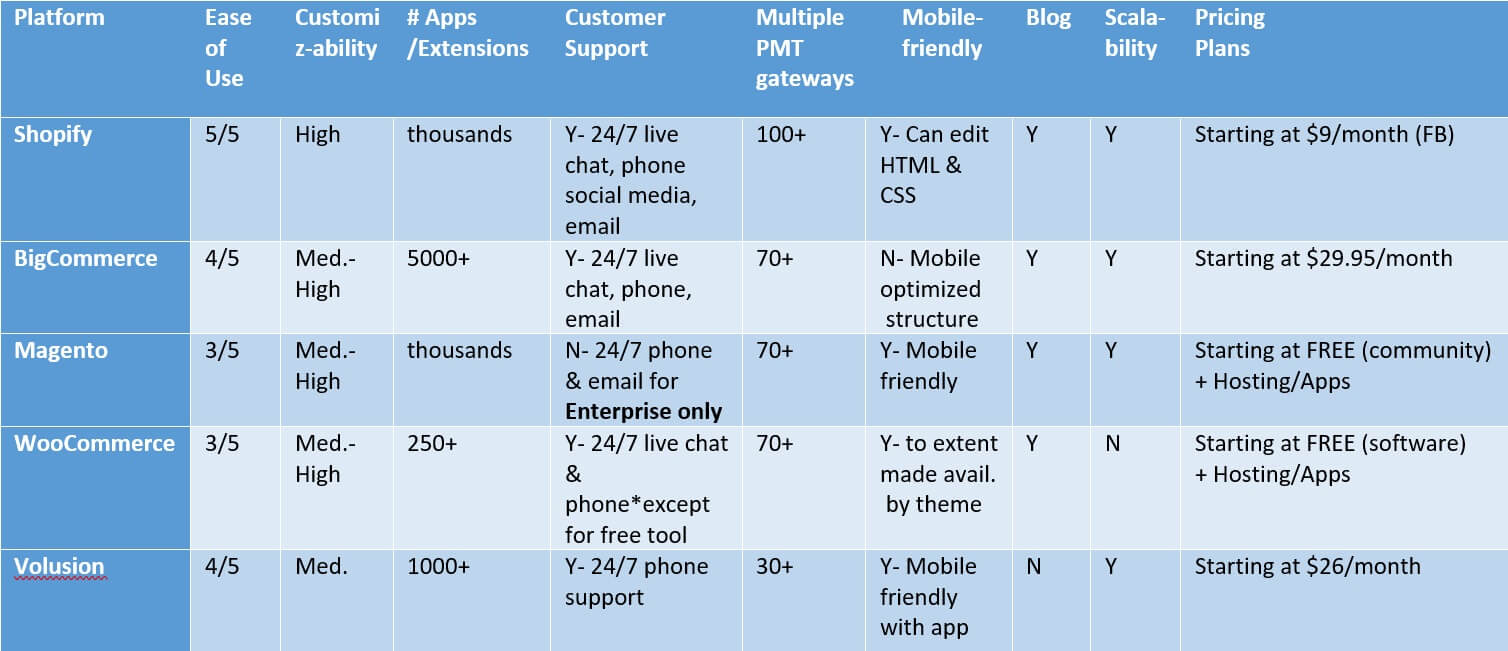 Each platform has pros and cons that can help you decide if it really is the best for you. You need to be aware of what products they allow you to sell. If you sell digital products for example, you need to consider a platform other than Volusion. And if you sell physical, digital and service-based products, and don't want to use an app, then you might want to consider using BigCommerce.
It's important to determine whether the platform allows for scalability. Other factors include the costs to your business and the features that are offered. Another thing to consider when choosing a platform is how much support you will have. If you will need constant and reliable support, you might want to go with platforms such as Shopify or Volusion as opposed to WooCommerce. Or you can pay extra to have Magento developers personally assist you. Being informed is the first step in finding the best platform to sell online that can help your business maximize margins and reach its goals.