Inventory is Your Most Valuable Asset.
We can help you keep track of it all.
Inventory Management System Implementation
Are you hesitant to implement an inventory management system for your business? We understand that it can be intimidating to invest a significant amount of money into a tool that needs to be set up correctly and customized to fit your unique business needs.
However, if done right, it can be a game-changer for your business. 
At LedgerGurus, we offer comprehensive implementation services for Dear and Finale inventory management systems. Our team will guide you through the entire process: 
Discovery Phase – We will start by assessing your needs and helping you determine which system is the best fit for your business. 
Implementation Phase – We will carry out the implementation, making sure that the tool is properly configured for your business. 
Go-Live Phase – We will make sure everything is working together and syncing properly, as well as training your team on the tool, troubleshooting any issues, and integrating the system with your accounting software. 
With our support, you can rest assured that your inventory management system will be set up for success.
Contact Us
Inventory Implementation Rescues
Have you recently implemented an inventory management tool, only to find that the data is unreliable and nothing seems to be going as planned? We understand the frustration of investing time and money in a tool that is not performing as expected. 
At LedgerGurus, we offer a rescue service to help you regain control of your inventory management system. Our team will conduct a thorough audit to identify the root causes of the issues and provide solutions to get your system back on track. We understand that your inventory management system is a valuable asset, and we are committed to helping you make the most of it. 
In addition, we recognize that many inventory management systems do not consider accounting as a critical component of the process. Without proper integration between your inventory and accounting software, your financial data will be inaccurate and difficult to manage. That's why we offer services to close the loop between your inventory and accounting systems, ensuring a cohesive financial picture that makes sense.
With our help, you can trust the data in your system and make informed business decisions.
Contact Us
Accounting Support for Inventory
Are you in need of comprehensive inventory support, but don't currently use an inventory management tool? At LedgerGurus, we understand that accurate tracking of cost of goods sold (COGS) and inventory is critical to making informed financial decisions, even if you're not using a dedicated tool. 
Our team offers expert accounting services to help you track your inventory and financial data with precision, regardless of the tools you're currently using. We'll work with you to ensure that your financial data is accurate and up to date, providing you with the insights you need to make informed business decisions.
With our support, you can be sure that your financial data is reliable, and your business is on track for success.
Contact Us
Build Your Business With Better Numbers
COGS & inventory data unreliable?
Need implementation support?
Hiring us as your specialized accounting department (at a fraction the cost of an internal accounting department) allows you to focus on what you do best
LedgerGurus focuses on eCommerce accounting services. We combine eCommerce-specialized accountants, processes, and technology to provide a solution that matures and advances your business.
When you work with LedgerGurus, you aren't just getting an accountant or bookkeeper, you are getting an entire team of experts. With years of varying business experience, we can provide you a team that is the right fit for your company and your financial needs.
Our process and services are flexibly structured in order to accommodate your specific needs. We are here to grow with you and guide you with your eCommerce business decisions.
Because we are 100% virtual, we understand how to serve our eCommerce clients. We can provide direct, timely answers to questions and concerns via the best technology to help improve your experience.
What Our Clients Are Saying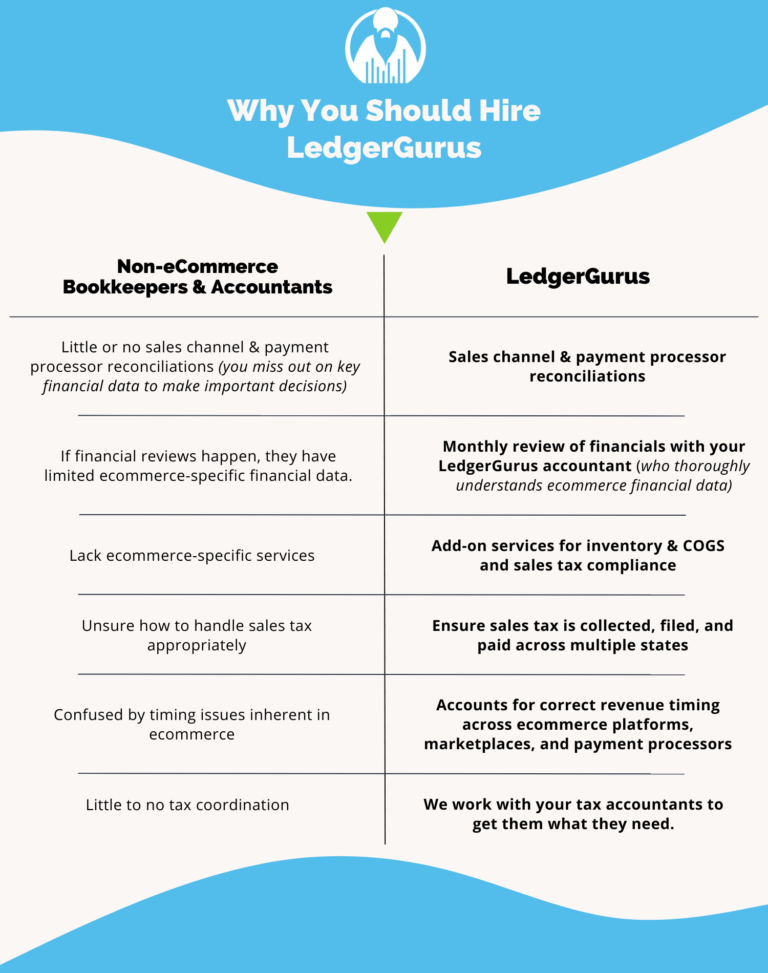 Bringing It All Together
Inventory management is just one aspect of your business's accounting. To get the complete picture, LedgerGurus can help you manage other aspects of your financials, as well, including:
Let's get the ball rolling!
Are you tired of the hassle of your inventory accounting? Let us take it off your plate, so you can focus on growing your business and increasing your profits.
Apply today to work with us.