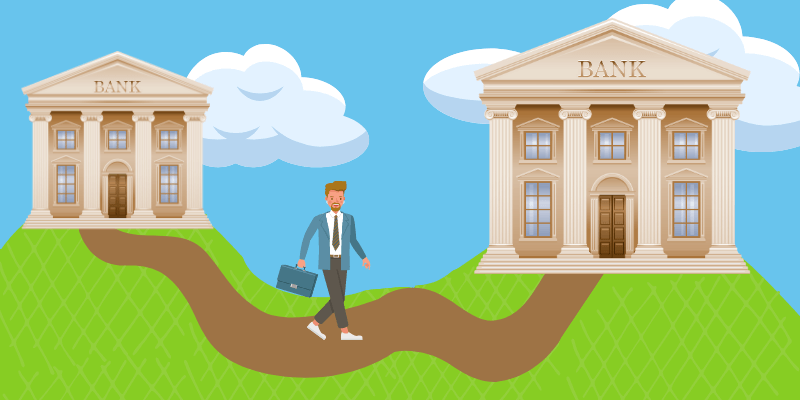 With the collapse of Silicon Valley, many business owners are switching business bank accounts. If you have done this or are considering doing it, here is a checklist of steps when switching business bank accounts to make sure you don't miss anything. 
LedgerGurus' expertise is ecommerce accounting, so you'll see reference to applications that are most relevant to ecommerce businesses. That said, this article is applicable to most businesses. 
Also, if we're missing an application's information on how to connect to your new bank account, reach out to us on LinkedIn and we'll update this article. 
10 Steps for Switching Business Bank Accounts
New Business Bank Account Considerations
It is tempting to move quickly when there is a bank crisis. Make sure to consider key points when switching business bank accounts: 
Bank Stability

– Check the news to see if there are concerns with the bank you are looking to use.

 

FDIC Insurance

– Are the bank accounts FDIC insured? Do they have products that enable insurance above the FDIC $250,000 insurance limit?

 

Fees

– What fees come with the bank accounts you are considering? Are there requirements like minimum balances that trigger fees?

 

Customer Service

– What is their reputation for customer service?

 

Bank Portal

– Do they have a good online bank portal? Can you have multiple users with different access levels. We've worked with dozens of banks and most of their online portals mediocre at best. Only a few have great portals.

 

Integrations

– Do they integrate with accounting software? Usually, you can check this by trying to connect to that bank from your accounting software or ask your accountant who can check.

 

Mobile App

– Does that bank have a mobile app? What can you do with it?

 

Physical Branches

– Do you want to be able to go into a physical branch, and where are they located?

 
New Business Bank Account Requirements
When opening business accounts at a new bank, you may need one or more of the following documents and information: 
Identification for all signers (often they need to be present)

 

Articles of incorporation

 

Business license

 

Certificate of incorporation

 

Certificate of formation

 

EIN

 

Partnership agreement

 
Many banks will want you to be physically present to do this. Some modern banks will allow you to do everything online. You also need to be prepared to make an initial deposit of funds to get accounts started. 
Here are some links for new business bank account setup requirements for some of the largest banks: 
Of the big banks, LedgerGurus recommends Chase and Wells Fargo. In summary, they have the best bank portals and integrations with accounting and financial software. 
Update Automated Deposits to the New Bank Account
The next step in switching business bank accounts once the new account is open is to get all the automated deposits to go to the new business bank account(s). Here are some things to consider: 
eCommerce Channels

 

Buy Now Pay Later

 

Merchant Service Accounts \ Payment Gateway

 
This list can be much longer with the endless list of payment gateways in particular, so search for how to change your merchant deposit account for the specific provider to find the steps. 
Update Payroll Software
Most payroll providers allow a business bank account to be connected for automated withdrawal when your run payroll. Here are some resources for changing that account by payroll provider:
ADP Run – This requires a phone call. From the product help:

How Do I Change to a Different Company Bank Account?

"Because your payroll, taxes, invoices, and employee direct deposits could be affected by the change, please contact your ADP Service team to make the change for you in RUN Powered by ADP®.

Important: Once we receive everything we need, it can take up to 48 hours to process the change.

What you need when you call us:

A pre-printed or voided check with the new bank account information

If you don't have a pre-printed or voided check, make sure you have at least one of the following available for the new bank account when you call:

Screen shot of the online bank account
Bank statement
Bank account agreement
Pre-printed check reorder form
Letter or email from the bank, preferably sent directly to ADP
Company direct deposit enrollment form

 Update your Client Account Agreement (CAA)

As soon as we finish making the bank account change, please select the task on the Home page to complete a new client account agreement."

OnPay – you will need to request a Bank Account Change Request Form
Paychex – "Paychex customers should call their Service Representative to make any bank account information changes in our system."
Rippling – you will need to login to access the support article.
There are many other payroll providers, so search for how to change your company bank account in their help sections. 
Update Credit Card Autopayments
If you have a bank account connected to your credit card for auto-payment, you will need to update it after switching business bank accounts. Here are some common business credit cards and how to switch the bank used to pay them: 
Update Bill Pay and Expense Management Software
Modern payment tools will also need to be updated after switching business bank accounts. Here is a list of these tools and how to change the bank account used to fund payments: 
Be sure to remove old bank accounts after adding new ones.  
Update ACH Payments
Some software and vendors set up ACH payments which allows them to take payment automatically from your bank account. These can be difficult to track down, so look through your bank statements or transactions for anything that is a withdrawal from another business. 
Once identified, connect with that business vendor to update your ACH information. There is a good chance they will connect with you if they try to pull a payment from the old account and it fails. 
Update Accounting Software
Don't delay this step or your accounting will be inaccurate. There are a few key steps in any accounting software for a new bank account: 
Create the bank account in the

chart of accounts

.

Connect the bank account to the accounting software for

automatic downloading

of transactions.

 

If you had any

automation rules

, apply those to the new account.

 
Now's a great time to make sure that your chart of accounts matches the needs of your business. For those in ecommerce, we have an ecommerce chart of accounts template you can follow.
Close Your Old Bank Account
Don't close your old bank account too quickly. You will want to make sure to: 
Download all existing bank statements.

 

Transfer all remaining funds.

 

Download the final statement – Statements usually end at the end of the calendar month. You'll have the new statement on the 1

st

day or first week of the following month.

 

Close the account with the bank – Often the account will close automatically when you transfer all funds. Otherwise, communicate with the bank and indicate you are closing your account with them and make sure to get the final statement before you lose access to the bank portal. This statement is important to verify where the money went.

 
Monitor Your New Bank Account
Make sure all the connections you made to the new bank account are working and that funds are depositing and withdrawing as expected. Keep a close eye for at least 1 to 2 months. 
10 Steps for Switching Business Bank Accounts

You Did It!
Congratulations if you have read this whole article. Changing or adding new banks is a pain and the reason why businesses don't do it. If there is a question on anything covered here or something missing, hit us up on LinkedIn and we'll update the article.
For more information: