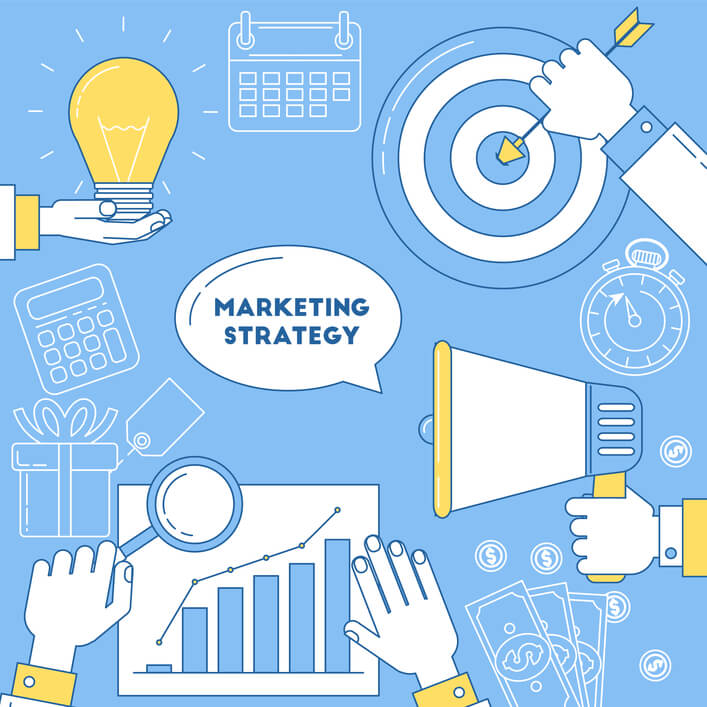 Today we are happy to post a guest blog from our friend Matthew Holman, an Ecommerce Manager at Aspen Chutes. As part of their services, Aspen Chutes helps ecommerce companies manage their multichannel marketing strategy. They combine service with software to provide a complete solution. Their unique solutions cover a broad spectrum of pain points that ecommerce companies face. They really know their stuff. Enjoy:
It doesn't matter if you're a large or small ecommerce retailer – you need to have a multichannel marketing strategy. If you're already selling on multiple channels, then you need to stay ahead of the curve and make sure you're engaging with your customers wherever possible and in the way that makes the most sense for your brand. Large retailers risk losing out on sales and getting passed over by competitors who are utilizing a more effective strategy. Small retailers need to choose where to find new customers. Either way, you need to maximize the value of your sales channels by determining where to spend your precious ad dollars.
Are you using the right sales channels for your ecommerce marketing strategy?
Selling on Amazon or through your own webstore are not the only games in town. Ecommerce empires have been built around social and mixed marketplace offerings. As a retailer, do you know all the places consumers are searching for products like yours? Are you engaging with them in all of these places? The purpose of this blog is to provide you with information about some of the most popular – and powerful – places to get your product in front of potential customers. Reading this blog will provide you with information to really nail your ecommerce marketing strategy across these multiple channels. If you don't do anything else, skim the list below and read up on anything that doesn't look familiar.
Amazon
We all shop there, and for good reason. Fast shipping, easy returns, and unmatched product selection – most businesses have an Amazon strategy. Countless blogs have already been written about selling on Amazon, so I'll just say one thing: if you can't differentiate your product from the teeming masses, then don't put all your eggs in this basket. It's a good idea to list your products here for spill-over from other marketing channels, but don't kill yourself doing it.
eBay
More than an auction site, there are 180 million active users on eBay. If your customers are searching on that site, you should be the one selling it to them, not a reseller. eBay publishes its information too, so you can use a site like Terapeak to find out sales information. For example, this graphic shows how many times "Mission Belt" was sold in the last month:
71 sellers sold 235 Mission Belts for $4880 in sales. Those sales are going to resellers, not to the company that actually markets Mission Belt. eBay functions in many ways like Amazon. They charge a marketplace fee on the sale and have specific category rules. They don't offer fulfillment services like FBA (yet), and you need a good reputation on the marketplace to be trusted by potential buyers. The reach of the marketplace is worth the effort, especially if used versions of your product are being sold there. You can learn more about the setup process here.
Walmart
Not everyone is an Amazon Prime member, but you can still get great shipping or pick-up in store deals with Walmart.com. With over 100 million unique monthly visitors, Walmart.com boasts a huge audience. Boost your brand by listing on this marketplace. There are no listing fees, although there is an application process. Walmart wants to make sure that you're legitimate and can handle fulfilling orders. Also, Walmart is selling on the site too, so you'll be going up against their products in most categories. You can learn more about getting onto Walmart here.
Jet
Jet rose to prominence as an Amazon alternative, and Walmart purchased it to give them a boost in catching up to the big A. While there has been recent noise that Jet isn't doing as well as advertised, because Walmart is steering customers to its home site, there's no doubt you can still find value selling on this platform.
Jet works differently than most marketplaces, by hiding the sellers from the buyers and only showing a single product. Jet determines who fulfills the item when it is sold based on location (closer to the buyer, the better), what other products they purchased (can you fill more than one item in the order), and other factors. You tell Jet your cost, and they determine the selling price for you. Providing it at a lower cost, obviously, gives you an advantage in winning the sale. Customers can get lower prices by opting into emails or opting out of returns. While you get deemphasized as a seller, the buyers on Jet are different than what you would find on Amazon. If your products aren't appealing to the typical Amazon shopper, they could find a home on Jet.
Sears.com
Sears may be closing some brick and mortar stores, but its online marketplace is thriving. There are over 130 million active members, with 16 million visitors to the webstore every month. These customers are loyal, and many shop here to purchase large appliances. Other well-performing categories are outdoor, home, mattress, health and fitness, auto parts, and electronics. The average cart size is higher on Sears.com than other marketplaces because so many customers purchase those larger appliances. In addition, you can list to kmart.com and shopyourway.com, whose reward program includes 75 million members. Sears has a fulfillment service, and like Walmart, your products will be going up against the retailer's product line.
Bonanza
If you have not heard of it, you should check out my favorite marketplace: Bonanza. While much smaller than the others listed above, with only 5 million monthly visitors, Bonanza cultivates a better brand and seller experience for its customers. You'll need to invest more time into your storefront, but you don't face the same level of fees, with Bonanza taking only 3.5%! The best part is that you can opt into their Google Ads program where they market for you at a cost based on tiered service levels. What's more, you don't pay fees if a customer uses a direct or referral link to find your store. Popular categories on Bonanza include fashion, beauty, art, jewelry, and gardening. The site is growing quickly and provides both buyers and sellers with a positive alternative to Amazon.
Instagram
While the value created by social media campaigns is often subjective, having an engaged and loyal Instagram following can now be directly rewarded with shoppable posts. Instagram's rise can be directly attributed to high-quality visuals – both pictures and videos. So it makes sense that its the perfect place to showcase your products. Bridge the gap between telling your brand's story and selling products with the most popular social media platform in the world.
Pinterest
Selling on Pinterest feels a little more complicated than some other channels but consider the nature of the platform. Users can save, or 'pin' pictures or videos of their interests to their page or someone else's page. Trying to make a homemade King Tut costume? You can search Pinterest and save pictures that you like, even how-to videos, so that you can have all of your ideas in front of you. Consumers research furniture, fashion, jewelry and other products in a similar fashion. In addition, Pinterest now lets you place 'buyable pins' so that they can purchase those products. Furthermore, you can utilize 'rich pins' with content like descriptions, price information, and real-time availability. Pinterest users can now get greater value from using your pins, increasing overall engagement, and delivering tangible results to your bottom-line. Check out this how-to-guide for more information.
Facebook Live
According to AdWeek, Facebook live videos receive 3 times higher engagement than regular videos, and 5 times higher engagement than posts with no video. You can use it to showcase events, interact directly with followers by answering questions or providing information, or even sell products. Here's a good example of someone leveraging that here. You can find more information on the benefits by checking out this blog post.
Google Shopping Actions
Google is the most-used search tool in the world. Pay-per-click campaigns for Google Ads is a great strategy for answering general or specific searches related to your brand and products. While most businesses are bidding on search results, there is great potential with Product Listing Ads (PLAs). These work similarly to bidding on search, but your product is displayed instead.
Google recently released Google Shopping Actions. Instead of bidding on keywords, Google seeks to serve up products that it determines as most relevant to a given search term. Participating in the Google Shopping Actions program can have significant returns for your business.Just be aware that there are certain criteria that work best, like having at least 500 SKUs. You can learn more about Google Shopping and its evolution here.
Final thoughts on your multichannel ecommerce marketing strategy
Multichannel marketing means different things for different businesses. Knowing your brand and your story should heavily influence your ecommerce marketing strategy. You will know what channels to focus your attention and resources. But getting your product onto many of these channels means you can start collecting data and make informed decisions about where to put your growth efforts. The complexity of managing these channels can be mitigated with multichannel software. In addition, a good ecommerce accountant, like LedgerGurus, can help you determine where you're getting the best bang for your buck. A great multichannel strategy encompasses putting products where your customers can find them and leveraging the most valuable channels for your product so your business can grow and do so profitably.

Other marketplaces to consider for your ecommerce marketing strategy:
Etsy – crafts, or anything with a unique feel.
Newegg – a fantastic place to sell new or refurbished electronics.
Tanga – a deals site where you can list products like you would anywhere else or opt into Tanga's promotions program for a higher percentage – achieve greater exposure for 20-25% of the sale price.
Wish – the #1 downloaded shopping app in the world. Wish is the place for fun and cool offerings and flash sales. Alibaba and other Chinese manufacturers use this app to move a lot of product, so be careful.
Youzz – home improvement and gardening are one of the top selling categories online. Youzz is a site catered specifically to that niche. If you have designers, you can post their profiles and services here as well.
MassGenie – a marketplace designed around social media; buyers can get better deals when other people join in on their purchase. If you have an engaged social media following that love regular product drops, check out MassGenie.
Shop.com – this marketplace allows for more comparison shopping. You can also put a link to your webstore on the page so that customers can easily learn more about you and your product. Fashion and beauty do very well on Shop.com.
One final tip for your ecommerce marketing strategy: talk to your customers!