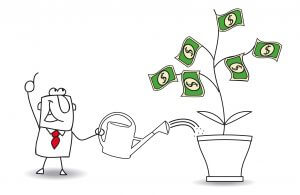 Something that really gets me nervous is emergency preparedness. Do you ever wonder if you are one of those people who freezes or who jumps into action when a crisis occurs? You see all those people in the movies responding to villains, explosions, and giant apes. And they make it look SO easy. But seriously if you were walking down the road and a giant ape appeared or maybe you just twist your ankle…because you were running from a giant ape, what would you even do? Luckily that's where emergency plans come in. Maybe you have an emergency contact. Maybe you have a route for a time such as this. Hopefully that route can also help you with small business funding solutions. If not, we are here to start you off on the right path.
Ecommerce Businesses and Cash Flow
Ecommerce businesses and product-based businesses can sometimes run into cash flow problems. Things might be going well. Then the next thing you know it's like some big ape swooped in and ate all your cash while your back was turned. In a previous blog post we talked about seasonality and how companies often have to stock up for high sales. Times like Black Friday and Christmas. They need to buy for that way in advance. Especially if they are ordering overseas.
It's not uncommon that these companies find themselves in a cash crisis because the cash cycle REALLY extends under those circumstances. With a large amount of cash being paid upfront. Understanding this aspect of their cash cycle can help them plan ahead. They can line up favorable funding solutions instead of being caught unaware. We might not be able to plan for every type of emergency situation. However, having a plan in place might save your behind from that giant scary cash-eating ape.
Turn to Your Channels for Small Business Funding Solutions
It's important to understand the why behind cash shortfalls. It's also important to be prepared for them. There are various ways to secure funding for your business. Turning to your channels can provide great funding options that are specifically tailored to ecommerce businesses. We will be focusing on Shopify and Paypal. But other channels such as Amazon also offer funding in the form of Revenue Advances and Term Loans. (For more information on Amazon Funding click here.)
Shopify Funding Options
All Shopify users are eligible to use Shopify Capital. This makes it one of the best solutions for funding a small ecommerce business. As these businesses are already familiar with how Shopify works. It includes two main ways to fund your small business.
Shopify Capital Merchant Cash Advances
Shopify Capital Merchant Cash Advances are fast and easy to qualify for. You "sell" some of your future sales to Shopify. They deposit that amount in your business bank account. Then they pull the pay back out of your daily settlements until you've paid the total amount. The "remittance rate" is the amount they pull from your sales.
The example they present is giving someone a $5,000 cash advance to purchase $5,650 of their future sales. Then they would receive the $5,000 immediately to their business bank account. This would be very helpful during those lag-times when you are shipping, receiving, and storing merchandise, but have yet to receive payment. This can also be useful if you are trying to build up inventory but haven't had many sales yet. Or for any short term cash shortfalls that may arise. If you have a remittance rate of 10% then they would be pulling 10% of your daily sales. So if you are averaging $50 in sales per day, then they are pulling $5. Until the entire $5,650 has been pulled.
They base your cash advance off the daily sales going through your channel. So you don't even have to qualify with financial statements. When they have pulled about 25% of the sales you promised to them, then you also have the option of paying it off in a lump sum. Shopify offers cash advances of amounts ranging between $400-$500,000. The total amount of the cash advance and the sales they pull is dependent on your companies risk.
For more information about Shopify Capital Merchant Cash Advances click here
Shopify Capital Loans
Shopify Capital Loans is similar to Shopify Capital Merchant Cash Advances. They both put a lump sum of cash directly into your business bank account. They also both pull from your daily sales to repay the amount. However, with Shopify Loans they also have something called "milestones". Milestones are 60 day cycles during a 12 month period. You have a minimum amount you have to pay during each cycle. If Shopify is pulling 10% from your daily sales and you don't meet the minimum during one of those 60-day cycles, they will take more from your business account to get to the minimum. For example, if you owe $841 a cycle and you only pay $700 through daily payments. Then they would pull and additional $141 during that cycle.
Shopify Capital Loans also offers cash advances from $400-$500,000 depending on how risky they think your company is.
For more information about Shopify Capital Loans click here
Paypal Funding Options
Paypal Business Loan:
In order to be approved for a Paypal Business Loan, Paypal checks online or over the phone to see if you qualify. If you do qualify you can receive cash as fast as the very next day! You will pay one fixed fee. Then you can tailor the terms to be what you need specifically. Hassle-free weekly payments are then pulled from your business bank account. You will have a payment period of somewhere between 13 to 52 weeks depending on what is right for your company.
For more information about Paypal Business Loans click here.
Paypal Working Capital:
If you decide to go with Paypal Working Capital, you choose the share of your sales you want automatically pulled as payment for your cash advance. You pay one fixed fee. There is no credit check because your cash advance is based on your Paypal sales. Therefore, it doesn't affect your credit score. There's no time-consuming application or check of your financial statements. And approved loans are funded in minutes!
For more information about Paypal Working Capital click here.
Other Funding Options for Ecommerce and Small Businesses
There are other small business funding solutions that you can turn to during a cash shortfall besides those offered by your channels. They may offer higher amounts of funding, but they may also be more expensive or more time-consuming. It's important to weigh the pros and cons before you proceed with any funding option.
Short-term Business Loans
Short-term business loans can be secured from a variety of lenders. Most people when they think "loan" automatically think they have to go to a local bank. There are other options out there. Including but not limited to companies such as OnDeck, StreetShares and Credibility Capital. Short-term loans provide cash quickly. They also usually allow for high borrowing amounts. However, short-term loans are more expensive. They usually have a higher interest rate. Another thing to consider is that they may have more frequent required payments. They also entail a good amount of paperwork.
Click here for more information.
Small Business Lines of Credit
Small business line of credit are usually more flexible than short term business loans. Their repayment periods are usually shorter as well which is better for managing your cash flow. Some reliable lenders include Kabbage, Fundbox and Bluevine (read an in-depth review of Bluevine here). Kabbage and Fundbox don't even require a business to have good credit.
Click here for a comparison of reliable small business lenders.
Tweaking Your Business Plan
There are many other small business funding solutions for your short-term cash shortfalls. Including negotiating favorable credit terms with suppliers, selling some of your company assets, refinancing or consolidating, or just cutting costs.  The most important thing to remember is to create a plan that works for your business. My emergency plan probably won't look the same as my neighbors plan. Maybe they haven't even considered the possibility of giant apes running around. Whether you decide to fund your cash shortages through your existing channels or look into other financing options. As long as you know what your options are and understand your company's cash cycle, then I would say you are ready for anything that comes your way!