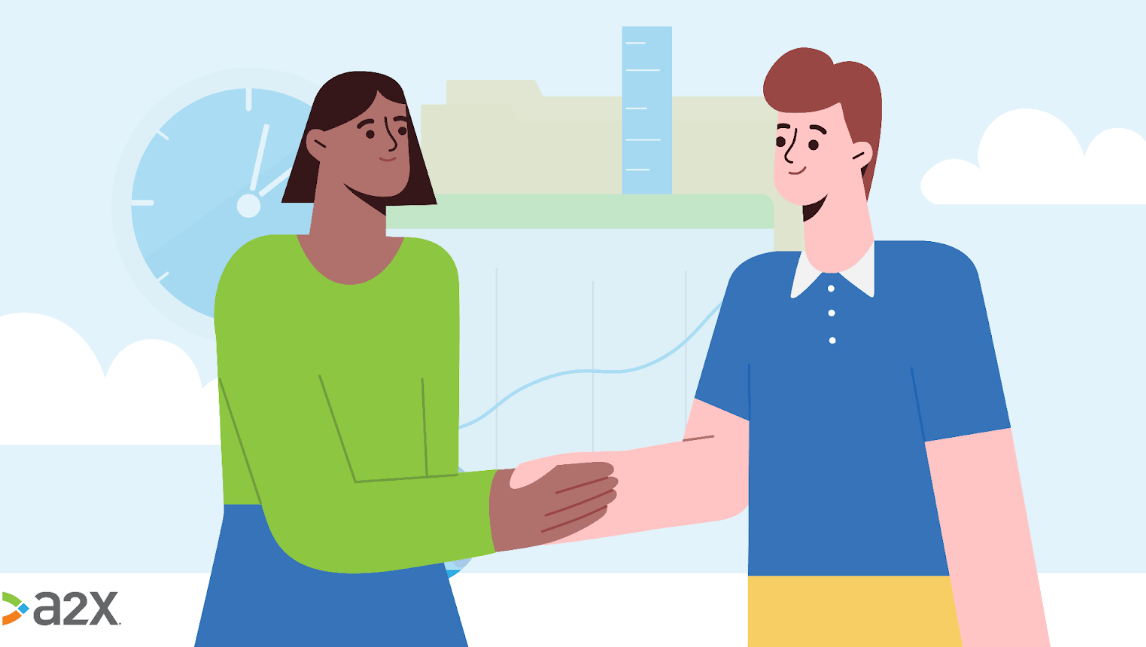 Estimated reading time: 5 minutes.
This is a guest blog written by our friends at A2X. Read on to the end to discover a free bonus that we co-created together!
Bookkeeping is an essential activity for any ecommerce business. 
But not all bookkeepers are created equal. 
Specialist ecommerce bookkeepers are experts in the world of online business. This means that they can provide an efficient and effective service for your operation. 
Here's why you need one on your team. 
In this guide to why you need a specialist ecommerce bookkeeper: 
What does a bookkeeper do?

What makes ecommerce bookkeeping different? 

Why you should hire a specialist ecommerce bookkeeper

How to choose an ecommerce bookkeeper

Preparing to hire a bookkeeper with our free checklist
What Does A Bookkeeper Do?
"Bookkeepers are responsible for providing accurate, up-to-date financial information about a business. They're always taking the pulse of a business." – Xero
Bookkeeping involves recording and reconciling your company's financial transactions, managing your cloud accounting system, and executing on the day-to-day processes required for success. 
Bookkeepers also carry out a range of processes that are important to your company's finances and overall operation, such as: 
Weekly tasks

like payroll, collecting sales tax and sending invoices. 

Monthly processes

like reconciling bank statements and reviewing balance sheets.

Quarterly checks

like reviewing and adjusting budgets.

Yearly responsibilities

like finalising financial reports and submitting them to the tax accountant.
What Makes Ecommerce Bookkeeping Different?
The ecommerce landscape has some unique features compared to traditional bookkeeping. 
You're making the same dish. But your ingredients are different. 
You need specialist utensils and techniques to get the best results.
Ecommerce has some key challenges:
Sales tax

obligations vary depending on your location and that of your customers. Every US state has different rules. And so does every country if you're selling overseas. 

Your audience is broader, so transaction volumes are higher. And every transaction is subject to seller fees, shipping and other costs. 

You're managing inventory across multiple sales channels and locations. Or using a third party fulfilment service like Amazon FBA. 

Your payments from sales channels like Amazon don't represent your net profit. You'll need to match each payment with sales, returns, shipping, sales tax and fees. 
It sounds complicated, and it is! 
But specialist ecommerce bookkeepers are used to these quirks. They have solutions already in place. 
Why You Should Hire A Specialist Ecommerce Bookkeeper
"LedgerGurus having so much experience in ecommerce has been really helpful. They understand [what] we need and where we're coming from yet they can see the bigger picture. They always let us know what we should really target"
Ecommerce bookkeepers (such as LedgerGurus) are used to working with online sellers. They've optimized their services for ecommerce success. 
This gives them some key advantages:
1. They know the landscape
Ecommerce bookkeepers are experts in the world of ecommerce. 
They're familiar with sales tax, inventory management and sales channels. They understand the bookkeeping needs of ecommerce businesses, and they've done it all before. 
You won't waste time getting them up to speed. And you can be confident that your accounts are in the hands of a pro. 
2. They're confident with technology
Ecommerce businesses conduct most (if not, all) of their affairs online.
Specialist ecommerce bookkeepers are tech-savvy and comfortable working remotely. They can fit into your team seamlessly, from anywhere in the world. 
They're confident using specialized software like QuickBooks. And they should be aware of helpful integrations like A2X that make your bookkeeping more efficient. 
3. They have their finger on the pulse
Ecommerce bookkeepers are plugged-in to the world of ecommerce. 
They're much more up to date with new innovations in ecommerce software and technology. They attend networking events and trainings. Some of them even produce their own training courses. 
They stay up to date with the latest changes in the industry to provide best possible service for your ecommerce business.
How To Choose An Ecommerce Bookkeeper
Here are a few pointers to keep in mind when looking for a specialist ecommerce bookkeeper (hint: check out LedgerGurus).
What's their scope of services?
Every bookkeeper is different! 
Consider what services you need and what your potential bookkeeper can provide. 
Will you train them up to bridge any gaps, or keep some tasks in house?
Who is in their team?
Decide if you'd like work with an individual on a contracting or employment basis. Maybe you'd rather engage a remote ecommerce bookkeeping firm like LedgerGurus.
A contracting bookkeeper may be juggling a range of clients on their own. A firm gives you access to a larger pool of staff, better processes and deeper expertise. 
What are their qualifications?
There are no specific qualifications required to offer services as a bookkeeper. 
You'll need to vet potential bookkeepers based on their experience and skills. 
Some firms, like LedgerGurus, have a Certified Public Accountant overseeing their work. This ensures that deliverables are up to best practice standards. 
Which channels do they work with?
It's important to consider whether the bookkeeper you're considering is skilled in using your accounting system and working with the channels you sell on.
Some companies and professionals will adapt to look after your specific needs. Others will help you to migrate to an accounting system that they're efficient with.
Prepare To Hire A Bookkeeper With Our Free Checklist
Before hiring a bookkeeper, it's worth noting down the processes are required every week, month, quarter and year. 
This way, you can ensure that all bases are covered as you step away from the work. As a result, it becomes easier for someone else to step in and take over. 
Don't know how?
That's what our Essential Ecommerce Bookkeeping Checklist is for. We recently created this as a collaboration between LedgerGurus, AIS Solutions and A2X.
The checklist details best practice bookkeeping processes for your ecommerce business. Just download the checklist and add or remove processes as required.
Then you can hand over these processes to your specialist ecommerce bookkeeper.
And relax, knowing your bookkeeping is in expert hands.
_________________________________________________________________________