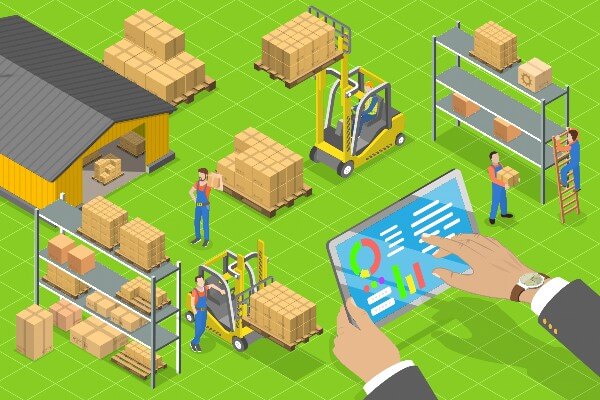 Estimated reading time: 9 minutes
Are you an ecommerce business owner struggling with inventory management? Does the thought of tracking stock levels, fulfilling orders, and maintaining accurate inventory records send shivers down your spine? Fear not! We have the perfect solution to alleviate your inventory woes. By harnessing inventory management software for ecommerce, you can revolutionize your operations and take your business to new heights of success.
Running a successful ecommerce business comes with numerous challenges that make inventory management an uphill battle:
Multiple warehouses

 

Fluctuating stock levels

 

Pending orders

The need to sync inventory across sales channels
All of it can leave you feeling overwhelmed. Then, adding to the frustration are:
T

he lack of visibility

 

The risk of overselling

Inaccurate costing calculations

 

Time-consuming manual processes

 
To make matters worse, these missteps result in:
Dissatisfied customers

Lost sales

A dent in your bottom line
But don't worry, there's HOPE! Implementing inventory management software (IMS) for ecommerce can revolutionize your practices and help you:
Regain control

 

Streamline processes

Experience newfound efficiency

Gain visibility

Accurately forecast inventory needs

 

Synchronize information across sales channels

Automate tasks

Reduce errors

Gain real-time insights to make informed decisions
All of this is possible. 
Say goodbye to inventory nightmares! By unlocking the potential of inventory management software, you can eliminate these challenges and propel your ecommerce business forward. 
In this blog post, we will explore ten ways an IMS tool can address your inventory issues. Are you ready to revolutionize your business? Let's dive in! 
If you'd prefer to watch a video about it, click below.
If you'd like to see a summary of the blog , check out the infographic. Read on to go into more depth. 

The Benefits of Inventory Management Software for eCommerce
Here at LedgerGurus, we talk to frustrated business owners every day who are sick to death of the insanity that inventory management challenges are forcing on their businesses.
The problem is that despite their best efforts, inventory management is a problem that keeps getting bigger as their businesses grow. 
"Inventory management isn't the flashiest part of your retail operations, but it's undoubtedly one of the most important. Sleek websites and creative branding are critical, but your customers won't care about these offerings if they don't know which items are in stock and don't receive their orders on time (or at all)." – risnews.com
At some point, it's time to consider other alternatives, and we highly recommend implementing an IMS tool. Here are 10 reasons that an IMS can completely revolutionize your business and calm the crazies caused by growth:
Increased visibility

 

Forecasting capabilities

 

Easier to track product costs

Supports process change

 

Acts as a product master

 

Increased precision

 

Streamlined processes

 

Gives good operational support

Improved reporting

Increased efficiency -> decreased inaccuracy

 
Let's go into each of these in more detail.
1. Inventory Management Software Increases Visibility into eCommerce Inventory
One of the primary challenges for ecommerce brands is maintaining visibility over their inventory. With multiple warehouses, pending orders, and stock availability, it's easy to lose track.
For instance, do you know:
Where your inventory is?
What's on order?
What's in stock?
What's available?
What's already committed to existing orders?
An inventory management solution provides comprehensive visibility, allowing you to monitor stock levels, track orders, and identify available inventory across different locations.
This level of visibility empowers you to make informed decisions about your inventory management.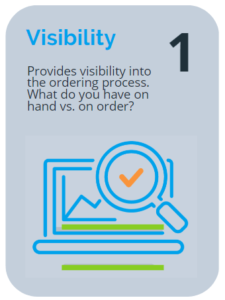 2. An IMS Tool Assists in Forecasting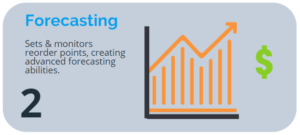 While an inventory management software is not a forecasting tool in the traditional sense, it can assist in the forecasting process.
By considering lead times, existing stock, and reorder points, these tools help you plan for future inventory needs.
Some solutions even take into account product sales velocity (the speed at which your products are selling). This can alert you to adjust reorder points when products sell faster than expected.
3. An IMS Makes

It

Easier to Track Product Costs
An IMS maintains product costs with real-time updates and changes. That means that every time a new purchase order is placed and that inventory is received, the tool updates your product costs. This keeps them as up-to-date as they can be.
This makes things like calculating COGS and the ending balance of your inventory SO MUCH EASIER and much more accurate.
LedgerGurus can help you manage product costs outside an IMS system, but it will never be as accurate and flexible as an inventory management tool.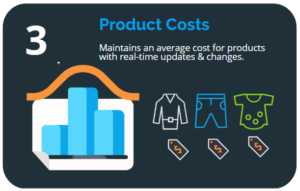 4. An IMS Tool Supports Process Change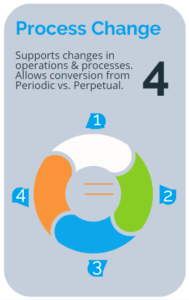 Transitioning from a periodic inventory system to a perpetual one can be daunting. However, an inventory management software eases this process by providing real-time insights into inventory levels and facilitating seamless process changes.
This is especially helpful for ecommerce businesses since the pace of online business is so fast. These tools help you develop the necessary processes to move to a more efficient and effective management system.
5. An IMS Tool Acts as a Product Master
Selling on multiple channels can be challenging when it comes to inventory management. An inventory management system acts as a product master, updating inventory levels across all sales channels in real time.
When a product is sold on one platform, the inventory is automatically adjusted on all other channels, preventing overselling and saving you time spent on manual updates. 
6. An IMS Tool Increases Precision in Sales and Purchasing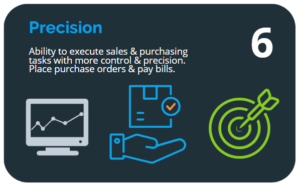 An inventory management tool enhances precision and control in executing sales and purchasing tasks. With all product information, pricing, and vendor details stored within the system, placing purchase orders and paying bills becomes more streamlined. These tools minimize human errors by: 
Prepopulating data

Reducing the time spent on manual lookups

Providing a comprehensive audit trail of all activities

 
7. An IMS Streamlines Processes
Inventory management solutions streamline key processes, resulting in increased operational efficiency.
Whether you manage your own warehouse or work with a third-party logistics provider (3PL), these tools can integrate seamlessly, offering better visibility into sales order fulfillment and warehouse management.
Improved pick, pack, and ship processes help optimize efficiency and enhance customer satisfaction considering that shipping is a consumer's top priority.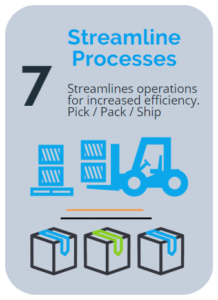 8. An IMS Tool Gives Overall Operational Support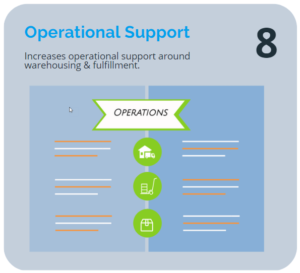 Inventory management solutions offer comprehensive operational support, covering various aspects such as purchasing, receiving, warehouse management, and sales channel management.
By providing better visibility and control over every stage of the inventory process, these tools help you manage your ecommerce operations more effectively and efficiently.
9. An IMS Tool Offers Enhanced Reporting
Compared to basic accounting software or spreadsheets, inventory management solutions offer advanced reporting capabilities.
By capturing data on sales processes and associated costs, these tools provide unique insights into profitability by:
Sales order

 

SKU

 

Sales channel
Access to this level of reporting empowers you to make informed operational and business decisions, driving overall growth and success.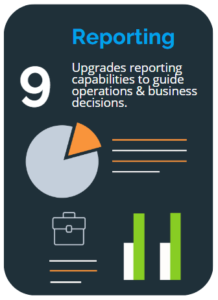 10. An IMS Gives Increased Efficiency and Accuracy
Operating solely with spreadsheets or manual data entry increases the risk of human error and inefficiencies.
Inventory management solutions automate data integration, eliminating the need for manual input of product information, SKUs, costs, and sales orders. By reducing time-consuming and error-prone tasks, these tools enhance efficiency and accuracy in inventory management processes.
More Benefits of Tracking SKUs with an Inventory Management Software
One of the biggest challenges faced by businesses is managing inventory when there are a lot of SKUs. Tracking metrics gets more complicated the more inventory you have, and the margin of error increases with each SKU that's manually tracked on a Google or Excel spreadsheet.
When you make the shift to automating your inventory management, you have a system in place that can seamlessly track metrics for you, no matter how many SKUs you have. Automation makes ALL of this easier:
Purchasing

 

Warehouse transfers

 

Returns

 

Sales

Receiving data

 

Sales channel data

 

Receipts and invoices

 

Sales fulfillment tracking
No more cross-referencing spreadsheets by hand or attempting to train employees to follow a streamlined process. You'll be able to accurately track COGS and other data, automate key processes, and see all your other data in one place.
How to Choose an eCommerce Inventory Management Tool
There are a plethora of inventory management software tools that offer solutions for ecommerce businesses, both big and small.
The right IMS should, at a minimum, do the following for your business:
Track inventory location

 &

quantity

 

Track costs associated with inventory

Report cost of goods sold

 

Offer valuation of inventory on-hand

 

Report inventory turnover

 

Reorder inventory
A good inventory management tool will integrate with your sales channel(s), so you always have real-time data available. The goal is to increase the scalability of your business and fuel your success by treating inventory as your most valuable asset. 
Each business is different, though, so we don't recommend the same tool for everyone. For that reason, we created a video called How to Choose the Best Inventory Management Tool for Your eCommerce Business. 
Best Inventory Management Tools in Our Opinion and Experience
At LedgerGurus, we implement these IMS tools for our clients. There are dozens more to choose from, however, but we love these for their cloud-based hosting, price points, and features they offer. 
Learn how to decide which inventory management software is best for your company. 
LedgerGurus Can Set Up Your Inventory Management
System Properly
It's time to ditch the Excel spreadsheet and upgrade to more intuitive and automatic inventory management processes. However, if you still need it, we have a road map for good inventory management. 
Before you get started with the inventory management system of your choice, download our IMS Implementation Checklist. It can help answer questions such as what the process looks like, each step you'll take to get set up, and what comes next.
If after looking at the checklist, you decide you'd rather get some help with the IMS implementation process, let us know. We have an entire team of IMS implementers who can help you implement the tool of your choice. And the best part is that they are also accounting experts, so they will make sure that your IMS tool will play nicely with your accounting software, setting your business up for true operational and financial success.
If you've already started an implementation, and it hasn't gone so well, let us know. We can fix the issues with your IMS so you'll be off and running with solid tracks to run on. 
More inventory-related content: